L2D is the creative outlet of Kent Lufkin. With decades of marketing, advertising and communications design experience, L2D provides both print and electronic design services to support the objectives of clients from Alaska to Atlanta. L2D specializes in nimble, quick-turnaround solutions as well as long-term strategic support. More...
Marketing-first design solutions with a distinct style is the best way to describe L2D's form-follows-function approach. L2D's design process typically yields a spare and clean result, in which the client's brand and product or service proposition takes center stage. More...
What clients have to say is perhaps the best way to judge L2D's success. Here are some examples:
"Our event at CES was a tremendous success and without question due in part to good creative inside the booth. I would just like to thank you and say great work!"
Declan Powell
Microsoft Corp.
"Thank you Kent for your hard work and for the skill you've applied to our website redesign and initial internet marketing campaigns. Your abilities to both design a visually-appealing website and to teach us how to reach out to potential clients form an impressive combination. We will be delighted to continue our work with you."
Dr. Norman Rosenthal
Medical Director
Capital Clinical Research Associates
"We just love what you do. You know us so well, you can nail it quickly and make us sound like geniuses! In a 2 minute conversation yesterday, you came up with several good ideas on how to position us. Very, very clever."
Claudia Wicks
President
Real Estate Base Camp
"The way you fully engage with us in our efforts makes a huge difference. You can see it by the impact of this brochure which is so passionately Dunn Lumber. Great to have you on our team!"
Mike Dunn
President
Dunn Lumber Co.

Recent projects
Microsoft's Automotive Business Unit asked L2D to design a series of banners and display panels for their pavilion at the 2009 Consumer Electronics Show. The challenge was that we had less than three weeks to design and refine the graphics to final approval, have them produced in London then shipped halfway around the world and installed in Las Vegas by the first week in January. Did we succeed? Project manager Declan Powell sure thought so. See his comments below left and a larger version of the graphics in our Portfolio.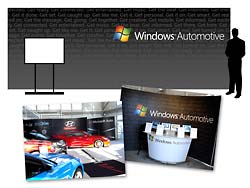 Capital Clinical Research Associates asked L2D to rebuild their legacy web site. Besides conveying an open an attractive image to prospective trial participants, interactive components like a contact form on every page and self assessment questionnaires for specific studies made it easy for visitors to make contact for further study screening. An aggressive SEO and AdWords pay-per-click campaign combined to lower the firm's acquisition cost per participant to a fraction of the amount they had previous spent using traditional broadcast and print media.